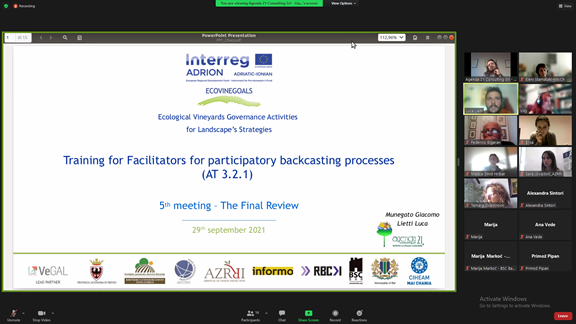 As a part of the ECOVINEGOALS project, a training was held in September with
national facilitators to support the preparation of action plans
using reverse planning methodology (participatory
backcasting).
The goal of the ECOVINEGOALS project is to improve protection and conservation
wine-growing regions with a view to their sustainable development, by applying
sustainable agri-environmental practices in viticulture. Funds for
realization of the project are provided from the transnational Interreg V-B
Adriatic-Ionian Cooperation Program - Adrion. The project is being implemented on
territories of 6 countries - Italy, Slovenia, Croatia, Greece, Montenegro and
Of Serbia. The project holder is the Development Agency VEGAL from Italy.
Responsible partners for Montenegro are Business Start Center Bar (BSC Bar) and
Municipality of Bar.
Given the limitations caused by the Covid-19 pandemic, training is
realized in online format, using the Zoom platform. The training led by Agenda21 experts with the technical support of the project partner
AZRRI from Croatia, responsible for the implementation of the software package -
Participatory management of agroecological transition of vineyards. On the
The training was attended by representatives of each project partner
was assigned the role of facilitator. The training was divided into 5 sessions
lasting approximately 2 hours each, organized in four weeks
period during September 2021. The goal of the training was development and sharing
common methodologies and a set of practical tools related to
participatory reverse activities
planning, which will be later applied in the pilot areas that are
selected project partners.
Participatory management of agroecological transition of vineyards is
a process that should involve all important stakeholders in
to each of the selected pilot demonstration areas, as is the case
Montenegro area of ​​Crmnica, which will work together on the development
action plan for agroecological transition of intensive viticulture
areas. Action plans will be the basis for developing a transnational
strategies for agroecological transition at the level of the entire Adriatic -
Ionian regions. There will be workshops with stakeholders
organized at the end of November 2021.