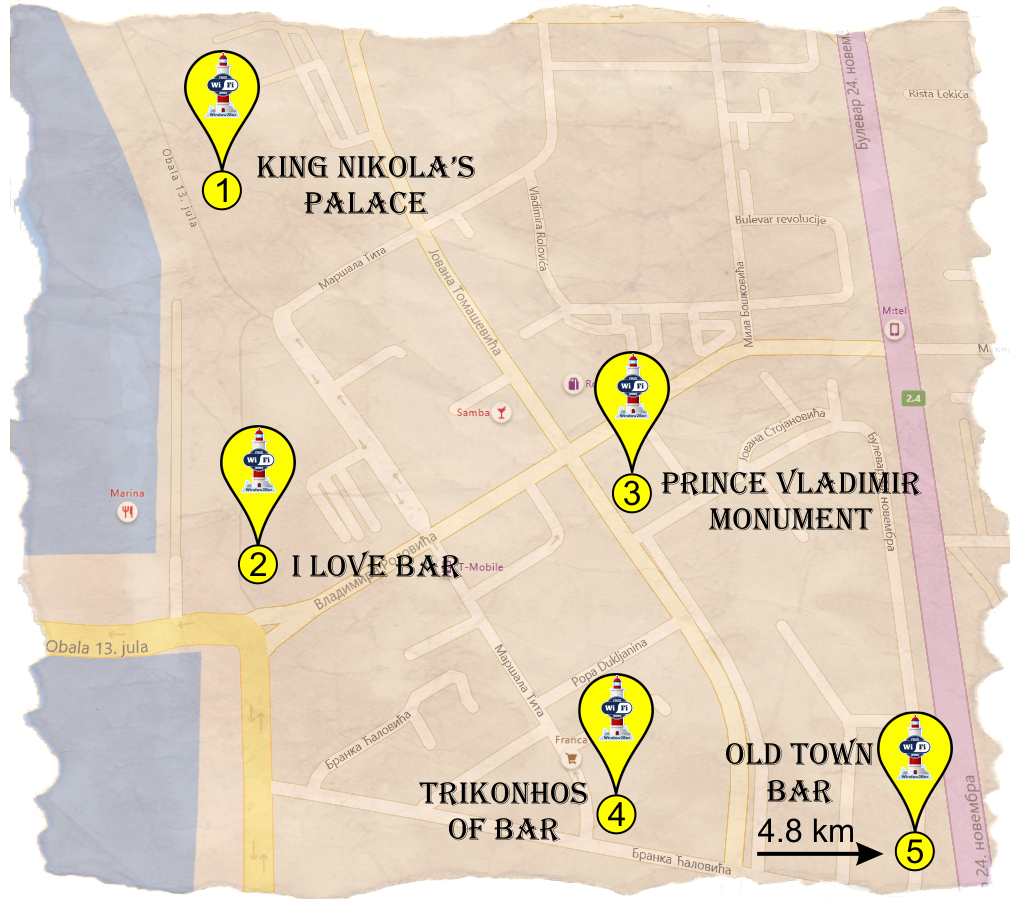 The town of Bar, through the project of the Business start-up center 'Window2Bar', became a smart tourist destination. Beacon technology has been installed at 5 attractive locations for tourists, which enables free wi fi and informative content about the cultural and historical sights of the town.
Illuminated advertisements in the form of lighthouses with the inscription free wi-fi, which are placed on the street lighting poles at 5 locations in Bar, will direct tourists to connect to the Internet for free on their mobile phones, without 'downloading' any application. All they need to do to access the free internet involves solving a simple puzzle that presents photos of cultural landmarks that are in their immediate vicinity, that is, near the free wifi sign. By solving the puzzle, the website https://windowtobar.wordpress.com/discover-bar/ is opened with texts about the respective cultural sights, but also with banners of local businessmen that are located in their vicinity and represent an offer that could attract tourists. Free internet is installed at 2 locations on the promenade 1) near the sign 'I love Bar', at the beginning of the promenade, 2) near the Gallery of King Nikola's Palace, then 3) near the old church 'Barski Trikonhos', 4) in the center of the town, across from the restaurant 'Mornar', near the monument to St. John Vladimir, the patron saint of the town and 5) in Stari Bar, across from the building 'Society of Olive Growers'. Certainly, if local institutions and businessmen had not cooperated through our project, the final result, the installation of beacons could not have been realized. In this context, we must mention the representatives of the Cultural Center, Marina, representatives of the Olive Growers' Association, then the representatives of the restaurant 'Gurman' and restaurant 'Mornar' who allowed us to install equipment in their facilities, power supply and internet connection to make the equipment work.
The mentioned concept represents giving a psychological experience, ie giving a gaming background - a tourist experience and is only one type of innovative tourist product / service, ie one type of gamification in tourism.
The Window2Bar project is supported through the IPA II Multi Annual Action Program for Montenegro of Employment, Education and Social policies (2015-2017).