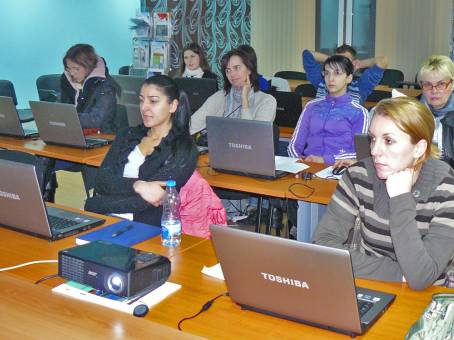 Trainings organized by the BSC Bar are designed for all those who want to improve and refine their business skills. The trainees are given the chance to improve their knowledge in the fields of entrepreneurship, information technology, business communication, marketing, management, business planning, legal and tax issues for business, and other similar fields. 
Each training, other than educational theory, has a practical element presented through exercises and case studies. The goal is to develop the skills of students through finding a solution to a given problem. The practice of BSC Bar is to have a guest speaker at every training. Depending from training topic, the speaker can be: an affirmed entrepreneur, a representative of the banking sector, a representative of government agencies and institutions, a representative of civil society institutions such as NGOs. The goal of this approach is to learn from the practical experiences of persons involved and to build entrepreneurship networks.
BSC Bar lecturers are international, regional and local professionals who have a solid knowledge base and proven entrepreneurial experience. In addition, to better prepare for teaching and sharing their knowledge, the trainers themselves have to undergo training in the form of pre- training. At these pre-training sessions, in addition to improving their skills through experience exchange and the acceptance of new models of work, trainers improve their knowledge of the needs of the labor market and adjust their training programs accordingly. 
Registration for the training is done by filling in the application form which can be downloaded from the link:
APPLICATION FORM FOR TRAINING
and emailing the form to v.antunicevic@bscbar.org marked 'for training'. The same form can be filed at the BSC Bar office, or instead of emailing it it can be mailed to our postal address.
Please specify the training topic for which you are interested when completing the form.
Training organized by BSC Bar are free of charge unless otherwise noted.
BSC Bar accepts applications for each training topic until we fill the recommended number of participants per workshop. We also reserve the right to reject applicants if the number of participants per training (workshops) is higher than recommended for this module. The right to participation comes to those who apply first.